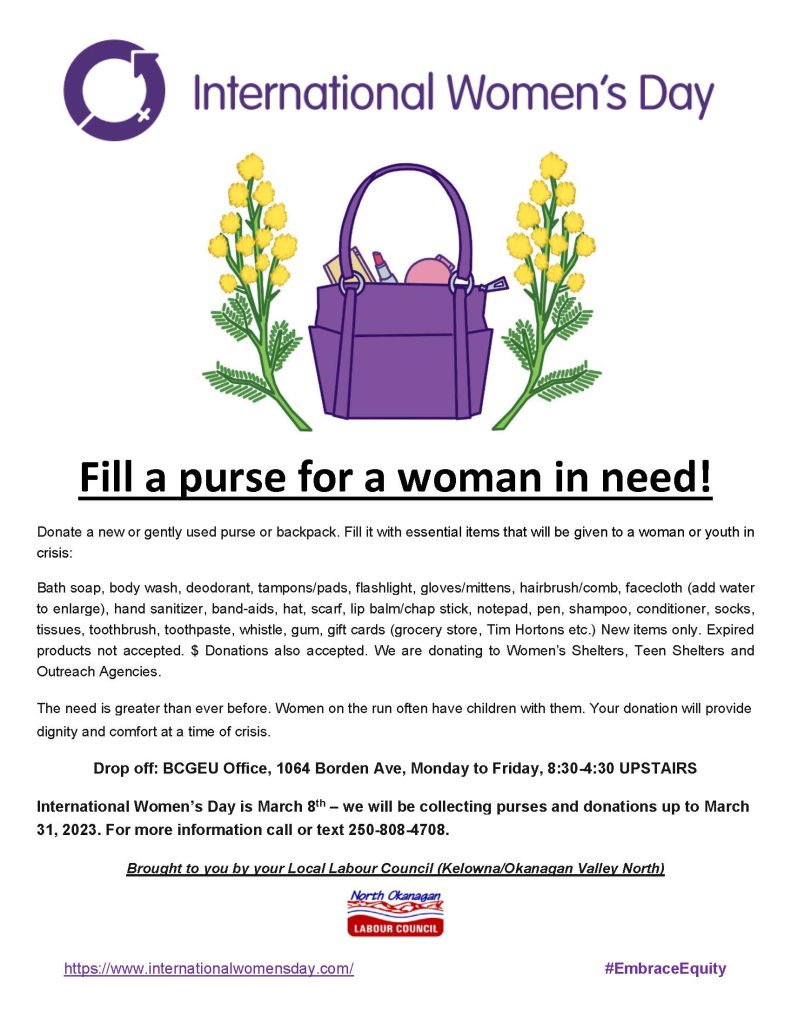 GM - MARCH 11, 2023
GENERAL MEETING - 9:30AM
GM Meeting Saturday March 11, 2023
Start Time: 9:30 AM
Hollywood Road – Room 2
GM - FEBRUARY 21, 2023
GENERAL MEETING - 6:30PM
GM Meeting Tuesday February 21, 2023
Start Time: 6:30 PM
Hollywood Road – Room 2 or Zoom
Collective Agreement and Provincial Framework
The ratified changes to your Collective Agreement
To find out information regarding the New Provincial framework and your New Memorandum of Agreement please use the two links below:
Both of these files together make up the changes to your current Collective Agreement that make up the New Collective Agreement (July 1st, 2022 to June 30th, 2025).
The final version of your joint Collective Agreement with Central Okanagan Public Schools, will be posted on our website once completed by BCPSEA.
NEWS RELEASE - JANUARY 23, 2023
DISTRICT AND CUPE REACH TENTATIVE AGREEMENT
Kelowna, BC – Central Okanagan Public Schools and the CUPE Local 3523 are pleased to announce a tentative collective bargaining agreement was reached over the weekend.
With the help of a mediator, both parties worked through the weekend to build an agreement and avoid any job action or interruption to services. The professionalism and hard work of all parties involved resulted in a tentative agreement to be ratified over the coming weeks.
Central Okanagan Public Schools continues to value the work of all staff in the district who strive to create excellent learning opportunities for students.
AGM - JANUARY 28, 2023
ANNUAL GENERAL MEETING - 9AM
AGM Meeting Saturday January  28, 2023
Start Time: 9:00 AM
Hollywood Road – Room 2
Employee and Family Assistance Program
Updated December 2022
Please open the link below for updated information on the Employee and Family Assistance Program.
January 28, 2023 General Meeting
The next CUPE General Meeting will be held on Saturday, January 28th  at Hollywood Road, Room 1 or Room 2 – 9:00 a.m.  This will be our General Election Meeting.
We are looking into seeing if we can also hold the meeting via ZOOM due to secret voting.
The following members are acclaimed in these positions:
Vice President (Teri Wishlow acclaimed)
Secretary-Treasurer (Kieran Fahy acclaimed)
Recording Secretary (Meran Couzens acclaimed)
All Shop Stewards acclaimed except for one CEA vacancy and the General Shop Steward
An email will be sent to ALL CUPE with a link attachment to sign up for the meeting.  Sign up is through SD23 Dashboard/Workshop Tile/Login.  Only those members registered are able to attend.
2019-2022 Collective Agreement
Click on the link below to view the 2019-2022 Collective Agreement
CUPE Information and Bulletins are available for viewing at: https://bcschools.cupe.ca/
Public Education Benefits Trust (PEBT)
PEBT Civil Litigation Bulletin - January 6, 2021
Please click on the link below to read the PEBT bulletin.
CUPE BC will be hosting a series of information webinars for CUPE members on the Plan Partners BC Municipal Pension Plan Redesign changes.
Please read the information in the link below for further details.
SIA Fund in Effect as of July 1, 2020
Attention CEAs,
The Union has received a few phone calls from CEAs who have attended staff meetings at their schools and thought they were being paid to attend the meetings because of the SIA (Service Improvement Allocation) Fund.
The SIA Fund does not take effect until July 1, 2020.  The fund will only cover 1 staff meeting per month up to one hour held outside of school hours.
For other departments, please also note that the date the SIA Fund takes effect is July 1, 2020.
Changes to MSP
UPDATED: December 11, 2019
The following MSP information is from the School District and was emailed to ALL STAFF today just to give you a heads up about the changes in MSP and the new process.  This new process will start in 90 days and SD23 will email  information to ALL STAFF closer to that date.  Until then, all changes are made through the Payroll Department at SD23.
Last Friday, all employees received an email to inform you that the District processed your last MSP premium deduction in November 2019.
To further explain, MSP premiums will be eliminated January 1, 2020, however the MSP program will continue to provide provincially insured health care benefits for eligible BC residents.  Those employees with existing MSP coverage do not need to re-apply.
The District plans to cancel their Group MSP Plan in the coming weeks but the process will take up to 90 days to complete.  As our District's Group Plan is cancelled, the 
Ministry of Health and Health Insurance BC (HIBC) 

will automatically transfer you and any existing dependents to a self-administered MSP account.  Until you are notified, contact the District's payroll department for any changes.
As HIBC begins this transfer in the spring, each individual will be notified and will become personally responsible for keeping their individual MSP accounts up to date.
• Update your personal information, or information for other individuals on your account (including name, date of birth, or gender);
• Add and/or remove a spouse (including Common-law) or child(ren); and/or
• Update your status in Canada (e.g.: obtain a new work permit, study permit, or confirmation of permanent residence).
More Information:
1 – Questions re: your MSP coverage, visit www.gov.bc.ca/MSP or contact HIBC (1-800-663-7100);
2 – To request an MSP Account Confirmation letter that will verify MSP enrolment status for one or more individuals on your MSP account, visit: www.gov.bc.ca/confirmMSPaccount;
4.  Changes on your personal MSP form are no longer made by the District.  Members log in and make their own changes.